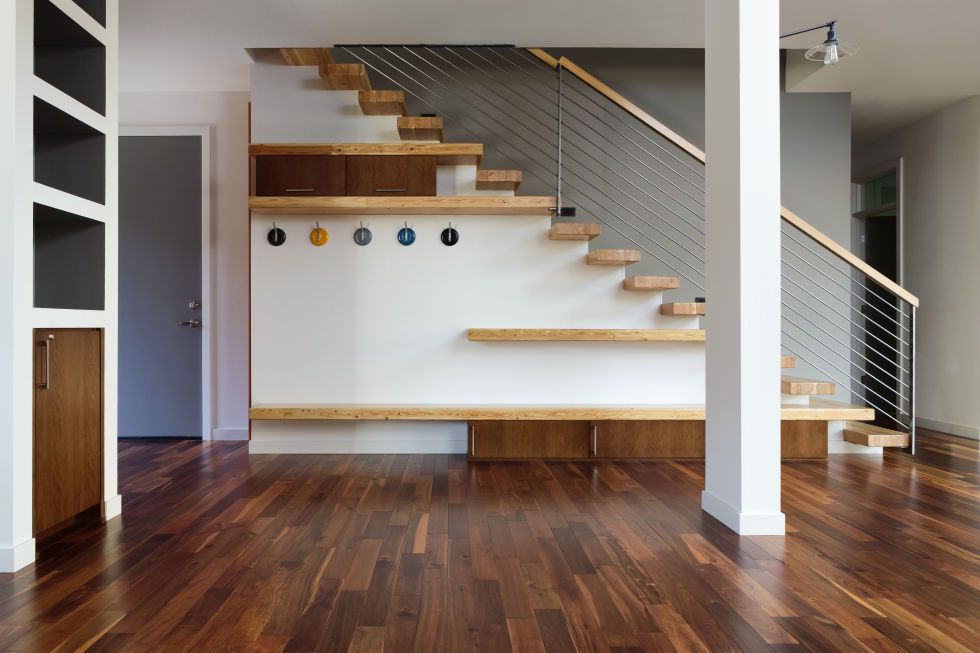 A frequently asked question by the homeowners planning to sell their properties is which types of flooring actually increase the resale value. In this article, you will find which floors have the best ROI (return on investment) and what you need to know about them before considering providing your premises with one. Have in mind that if you plan to sell your home in the next 2-3 years, you will get the most of your investment. First, you will be able to enjoy the renovation you have made and second, this will balance the expenses of the project in a longer period so your bank account won`t be shaken up. Check out our suggestions below!
Hardwood floors – before we explain you why it is a good idea to install a wood flooring, let`s discuss another alternative. Many homeowners neglect the fact that an existing hardwood floor can be sanded and refinished at a price way more reasonable than installing a new one. This overlooked option is known to be your smartest one as you will save a lot of expenses but still have a freshened up flooring solution and a sleek surface underfoot. If you refinish your floor accordingly, you can achieve incredible results – for example, you can change the colour and give a whole new look to your premises. If you want to make your home look more spacious, choose a lighter hue; if you want to create a more sophisticated atmosphere, refinish in a darker colour. If you are not sure what to opt for, you can always visit your local wood flooring showrooms – the assistants will give you helpful advice for your existing floor or the one you are planning to install. A reputable real estate agent shared that satin finish is usually preferred as it shows scratches less than a semi-gloss finish. Hardwood floors will never go out of style, pretty much like silver and gold, you can only benefit from having this long-lasting solution at your premises.
Natural stone floors – they are very popular and potential buyers would greatly enjoy having such flooring solution in their new property. They come in all shapes and sizes and can be a smart option for both traditional and modern homes. The beauty of the stone and the fact that it improves with age make the installation of a natural stone floor a good way to increase resale value. These floors have a good ROI but make sure to match the type of natural stone with the kind of activity which will take place as some are very porous and are not suitable for high-traffic areas.
Vinyl floors – they are gaining popularity because of their cost-effective rates and an unbeatable assortment of colours and styles. Vinyl flooring is a preferred not only for the good value for the money but for its durability – a well-maintained floor can last up for 20 years. There are manufacturers who offer warranties of 15 years and more which will definitely bring a good resale value of your property. Vinyl floors mimic natural stone, hardwood and because of the advanced printing processes, they look very realistic. This flooring provides a softer surface than tiles and hardwood thanks to a thin layer of backing made of foam or felt. Vinyl is especially suitable for kitchens as it is hard-wearing and can endure the stains and spills which inevitably happen in these areas.
Tile flooring – last but not least, tiles are praised for their durability and moisture-resistance. Potential homebuyers with kids and pets will greatly appreciate this floor covering as it is long-lasting and it will survive the messes which go hand in hand with them. Tiles resist odours, stains and scratches and can be cleaned and maintained easily without the need of sanding and refinishing. Many buyers also prefer them because they are more environmentally-friendly than hardwood, for example. Another advantage we should mention is the fact that tiles don`t burn and don`t emit toxic fumes. Real estate agents advise you to stick with neutral and earthy tones like gray and beige as they will match every décor and style. People prone to allergies usually prefer tile flooring as allergens don`t find a suitable environment to accumulate and survive on them.
Selling your residential premises is a very important step in your life. You have a long list of things you should carefully consider – choosing the right ways to increase the resale value is one of the most essential ones. The flooring plays a main role in the interior so improving its characteristics can result in a higher selling rate. The aforementioned flooring ideas can boost the worth of your house before you finally put it on the market. Who knows, maybe after the renovation flooring project you will decide that you like it more and it feels better to live in!